INITIAL TEACHER TRAINING - PRIMARY SCITT

Make a difference: train to teach
Bradford Birth to 19 SCITT offers salaried and unsalaried places in primary initial teacher training. For September 2018 starts, applications for teacher training are to be made through UCAS from the end of October 2017.
Make a Difference: Train to Teach Information Events
Have you or are you a member of staff who would make a great teacher?
If you or someone you know are wanting to be a teacher of Primary or Secondary age children please come along to our next information event.
It will be an opportunity to talk to staff about how to apply and to teachers from partner schools about in-school placements, to listen to presentations about the course experience and to hear about job prospects.
To find out when the next event is, see our event calendar, or contact us on 01274 543282 or email scitt@bradfordbirthto19.org
2017 – 2018 initial teacher training courses
Search for our courses here, or enter 'St Edmund's' or 'BD8 9QW' in the Training Provider search.
More information about UCAS and the process of applying for a course can be found here.
2015/16 Trainees' experiences of the course
Click here for trainee's view of teacher training
To find out more contact:
Katie Waring

Head of Initial Teacher Training
Email: katie.waring@bradfordbirthto19.org
Telephone: 01274 494898
Bradford Birth to 19 Teaching School Alliance
St Edmund's reception: 01274 543282
For more information about entering a career in teaching you will find the following websites useful:
UCAS: http://www.ucas.com/how-it-all-works/teacher-training
Teachers' Standards: https://www.education.gov.uk/publications/eOrderingDownload/teachers%20standards.pdf
Department for Education: http://www.education.gov.uk/schools
School Direct: http://www.education.gov.uk/get-into-teaching/teacher-training-options/schooldirect.aspx
How to Apply - visit the how to apply page:
For a printable version of our course codes click here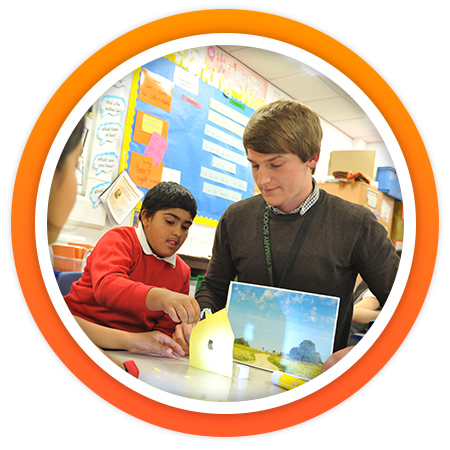 Primary Course Codes
Course
UCAS Code
Provider
Primary SCITT (Foundation and KS1)
2MHH
BBt19 SCITT (259)
Primary SCITT (KS1 and KS2)
2MHJ
Schools Direct Primary Unsalaried
2MHN
St Edmund's (1EN)
Schools Direct Primary Salaried
2MHM